Danai R. Banta, CVT.
Desi's Pet Care and the Cat Cottage was founded in the summer of 2009 by Danai R. Banta, CVT
Danai came to Boston's Metro West from Madison, Wisconsin after completing her Associates Degree in Veterinary Studies. She worked in veterinary clinics from 2005 until founding the business in July 2009. Previously, Danai earned a Bachelors Degree from Winona State University and worked in the field of Cardiac Rehabilitation.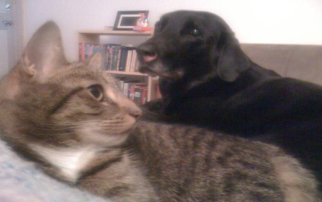 Danai has a great love for animals and has one pet of her own; Tuna, a spunky Domestic Shorthair cat. Her beloved Desi and namesake of the business was with her from 1997-2011.
Desi and Tuna are pictured to the right.